Convito Gift Cards
The perfect way to show your appreciation or love to your family, friends & associates.
valid in both café & market
available in e-card format or physical cards available for purchase on location or phone order.
Our Favorite Gourmet Gifts
Custom and Holiday gifts also available.
Choose a gourmet gift to send to your business associate, teacher, friend, host/hostess or the gourmet food lover in your family.
Shipping & delivery available upon request. Contact us for a quote
Below are available for purchase online, under HOLIDAY GIFTS menu
Ciao Now
A great selection of goodies both savory and sweet, no need for cooking! Crackers, spreads, breadsticks, cookies, chocolate and more. Perfect for any gourmet snacker… college student, road trip, renovating a home, host gift….
$55.99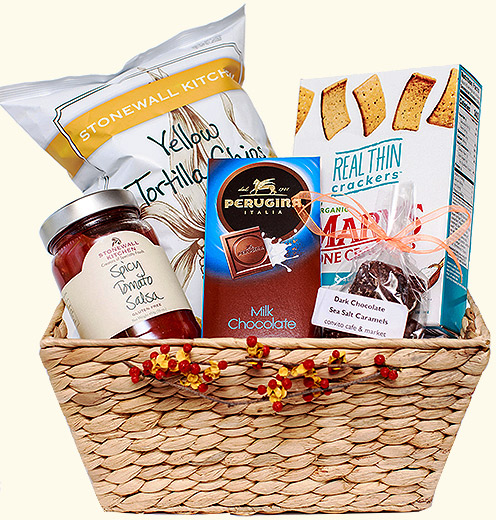 Simple Supper
A combo of pasta, sauce, vessel, spoon & towel. Great gift for a new home, a colleague, teacher…
$54.99 (add parmesan for $10 to complete the package)
Dinner Tote
A handy burlap jute bag filled with the makings of a gourmet dinner: artichokes & colleen's breadsticks to start, Italian bronze-cut pasta, natural tomato sauce, salad dressing/oil, and chocolate for dessert….
$89.99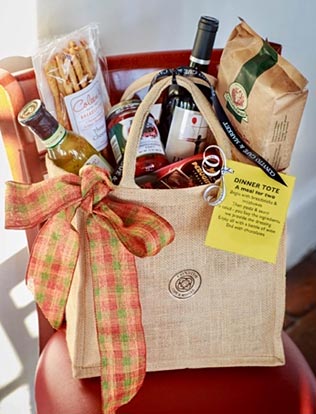 Al Forno
Includes bake dish, Italian pasta, tomato sauce, a recipe for baked pasta, salad dressing, imported spread & crackers to begin. Fun gift for a new home cook, new home or renovation, pasta lover…
$89.99
Awesome Antipasti
A great selection of meats, cheeses, crackers, mustard, jarred antipasti in a beautiful basket. Perfect for a picnic, boat trip, road trip, potluck….
$133.99