The Ides of March

as celebrated by Convito Café & Market
established north shore institution since 1980


"Et tu, Brute?" are the three most famous words uttered in literature. Both Caesar and Brutus loved Rome but because of arrogance and hubris one man conspired against the other. And we all know the outcome!


Convito chooses to celebrate historic Rome the grand city, the cradle of civilization - not the violence.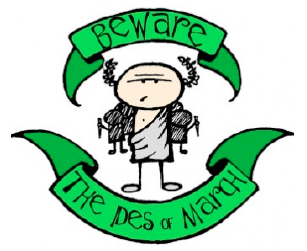 Friday, March 11 – Thursday, March 17
In Our Market

* We're gonna butcher our prices again
(15% off most items in the entire market!)

* Tantalizing Tastings
Extra virgin olive oils
Vinegars including a divine 25 years old aged balsamic
Famous Convito sauces (tested in Milan in 1980!)
special new products including cookies, dips, cheese
wines from around Rome and other parts of Italy

In Our Cafe

* Wine Discounts
including the wine synonymous with Rome:
Frascati is Rome's signature wine, produced in
the countryside surrounding the city for nearly 2000 years.
It is the most mentioned wine in Italian literature.

* Roman Dinner Specials
Gnocchi alla Romana: semolina gnocchi baked with butter & parmesan
The word for gnocchi may derive from the Italian word nocchio meaning a knot in the wood. It has been a traditional type of Italian pasta since Roman times. Each area has developed their own kind of gnocchi.

Penne all'Amatriciana: succulent bacon and tomato sauce
The invention of the first tomato sauces dates back to the late 18th century. The Amatriciana recipe became increasingly famous in Rome in the 19th and 20th centuries rapidly thought of as a classic of Roman cuisine. Originated in the nearby town of Amatrice.

Saltimbocca alla Romana: chicken with prosciutto & sage
Saltimbocca literary means "jumps in the mouth". Unifying the local flavors of the region our version of the dish combines butter, white wine, chicken breast, prosciutto & sage – a complex symphony for the taste buds.

Spaghetti Carbonara: eggs, cheese, pancetta & black pepper
Folklore abounds as to the origin of this dish. Some say derived from the Italian word carbonaro meaning charcoal burner – maybe made as a hearty meal for charcoal workers. Some say it is not a classic Italian dish but originated as a dish in the Second World War sought after by American soldiers when many Italians were eating eggs and bacon supplied by the troops. It seems more likely that it was an urban dish from Rome.
Click here for more information about Convito
Follow us on Social Media